Regular price
$0.00 USD
Sale price
$20.00 USD
Unit price
per
Sale
Sold out
The leave-in mask restores hair at the molecular level in 4 minutes thanks to the patented K18Peptide™ technology. Clinically proven.

It is the first product to use the peptide method to reunite keratin chains destroyed by bleaching, dyeing and other chemical and thermal treatments. The stronger the damage, the more noticeable the result.
1. Wash your hair with shampoo, DO NOT USE CONDITIONER.
2. Remove excess moisture with a towel.
3. Squeeze out a small amount of K18 mask: 1-4 pumps depending on the length, thickness and condition of the hair.
4. Rub in palms until a homogeneous white emulsion appears.
5. Spread evenly with your hands from the roots to the ends of the hair and leave for 4 minutes. DO NOT RINSE!
6. Style your hair as usual. For best results, use during next 4-6 hair washes. Then, to maintain the result, after each 3-4 procedures.
Water, denatured alcohol, propylene glycol, cetearyl alcohol, dicapryl ether, cetyl ethers, behentrimonium chloride, polysorbate-20, sh-oligopeptide-78, hydrolyzed wheat protein, hydrolyzed wheat starch, isopropanol, tocopherol, phenoxyethanol, potassium sorbate, citric acid, fragrance (perfume), geraniol, linalool, hexyl cinnamal, benzyl alcohol.
For external use only. Made in USA.
Несмываемая маска за 4 минуты восстанавливает волосы на молекулярном уровне благодаря запатентованной технологии K18Peptide™. Клинически доказано.
Это первый продукт, использующий пептидный метод для воссоединения кератиновых цепочек, разрушенных обесцвечиванием, окрашиванием и другими химическими и термическими процедурами. Чем сильнее повреждения, тем заметнее результат.
Незмивна маска за 4 хвилини відновлює волосся на молекулярному рівні завдяки запатентованій технології K18Peptide™. Клінічно доведено.Це перший продукт, який використовує пептидний метод для возз'єднання кератинових ланцюжків, зруйнованих знебарвленням, фарбуванням та іншими хімічними та термічними процедурами. Чим сильніше пошкодження, тим помітніший результат.
Absolute game changer!
very nice mask, but a bit pice but it's def worth the huype
View full details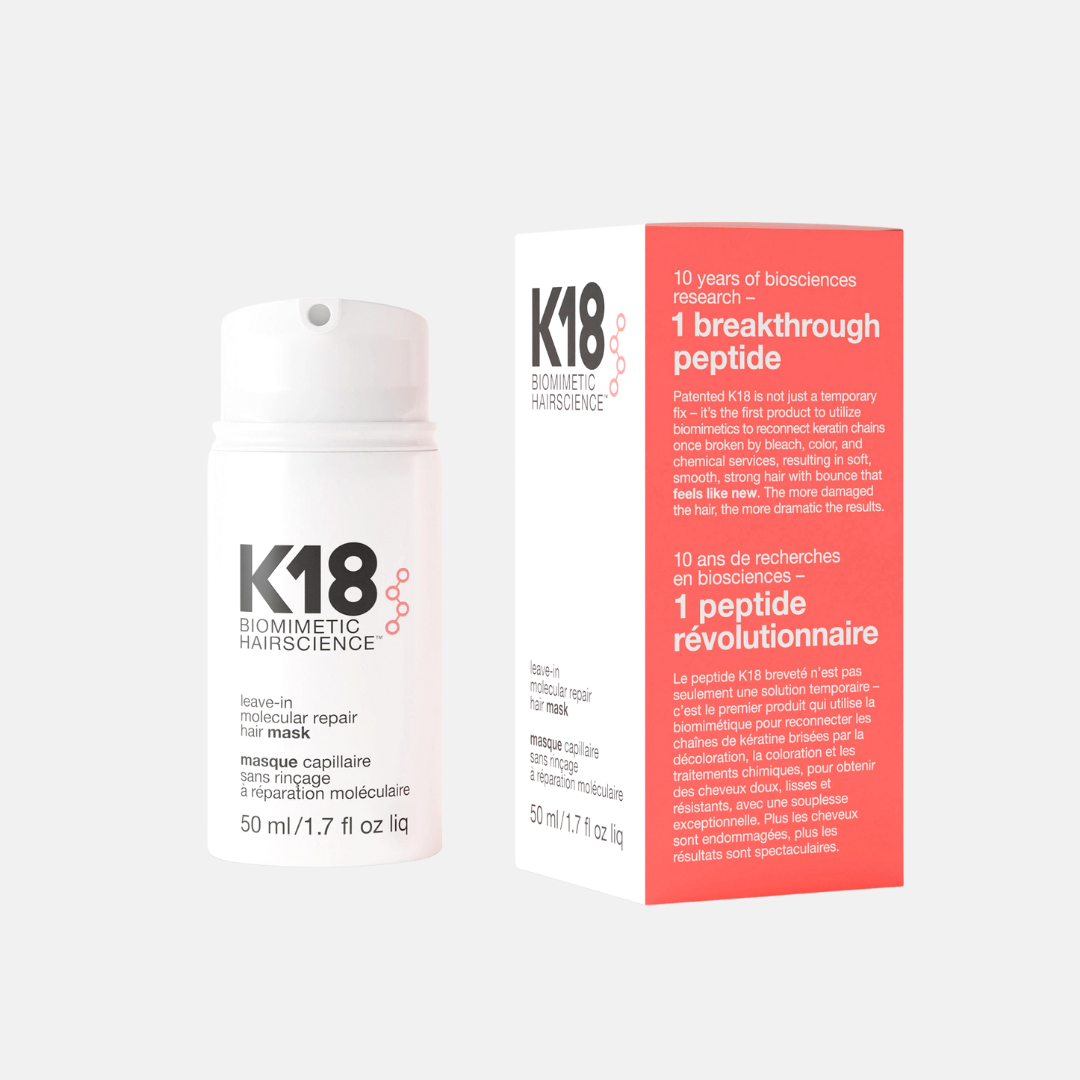 Absolute game changer!
very nice mask, but a bit pice but it's def worth the huype